During the month of October we open up our corn maze and pumpkin patch. Bring your family and let Farmer Brown take you on a Hayride to the maze and to the pumpkin patch. There you can find your way through the maze and then choose that special pumpkin to make your fall celebration one to remember.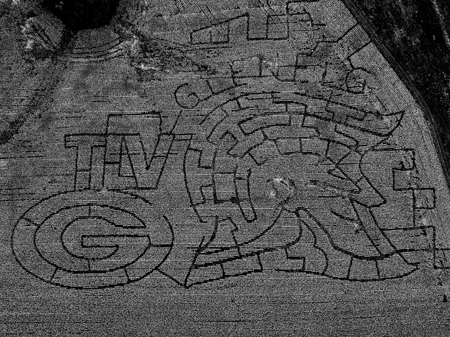 We want to celebrate the class of 2021! We would like to offer each high-school a Friday in October for you to celebrate. Please e-mail us if you want to setup this for an activity for your school we can have an opportunity to setup a photo booth for your Howard County school's. tlvtreefarm@yahoo.com
Our maze was cut this year to say great job to our senior! David Brown we are so proud of you!
We Open October 3 - through October 31, 2020
Hours are: Saturday and Sunday from 10 am - 5 pm

Come to check out the Farm Activities On Saturdays

October 4, 2020 - Come to meet the 4-hers, learn about the animals they take care of and what 4-h means to them.

October 11, 2020- It's Teddy Bear day, come to the farm and bring your teddy bear for the hay rides.

October 18, 2020 - It's Cowgirl/Cowboy day, come to the farm in your cowboy/girl boots, hats and sheriff pins.
October 25, 2020 - It's wear your favorite sports team day.
October 31, 2020 - It's wear your Halloween Costume Day, come to the farm in your costume.
**Hours depend on weather and supply of pumpkins

Prices:
Admission is 5.00 (Corn maze entrance is the cost)
Free Hayride (no charge)
Small Pumpkins are 3.00 a piece.

Large Pumpkins are 69 cents a pound.

Jack be little pumpkins are 1.00 each.

**Prices may vary depending on season.**
---
Educational Tours/Birthday Parties/Things to do at the farm
**Due to COVID we will not be doing the educational tours for 2020**
Educational tours for groups and schools are available by appointment, only in October. Call for advanced early booking 410.489.4460
The following are activities that the children will enjoy:
- Hay ride to the pumpkin patch (High Walled Wagons)
- Pick your own pumpkin
- Visit to the farm animals
- A walk through the corn maze


The following will not be available this year due to COVID.
- A ride on pedal tractors
- Time to play in the corn pit
- Rubber Ducky Races